Your ads will be inserted here by
Easy Plugin for AdSense.
Please go to the plugin admin page to
Paste your ad code OR
Suppress this ad slot.
India is a large country with more than 28 states and more than a billion people. And to maintain law and order status in this large country, there is a requirement of a large of sophisticated police force.  There are around 60 lakhs police men in India making around 130 police men for every 100,00 people which is very less. And this includes the number of police officer who are involved in security of Indian politician. Law and order and in turn police is a state subject and there are only few central police agencies like CBI and NIA which reports to the central government.
The Indian police force structure is very similar among different states and it  starts with the director general of police(DGP) in each state and then follows the ranks and designations of police officials at the subsequent levels of the hierarchy. The Indian police service hierarchy is constituted in vertical alignment where there are three levels of police service. Below you will find the structure which is followed in most of the state and Union territories.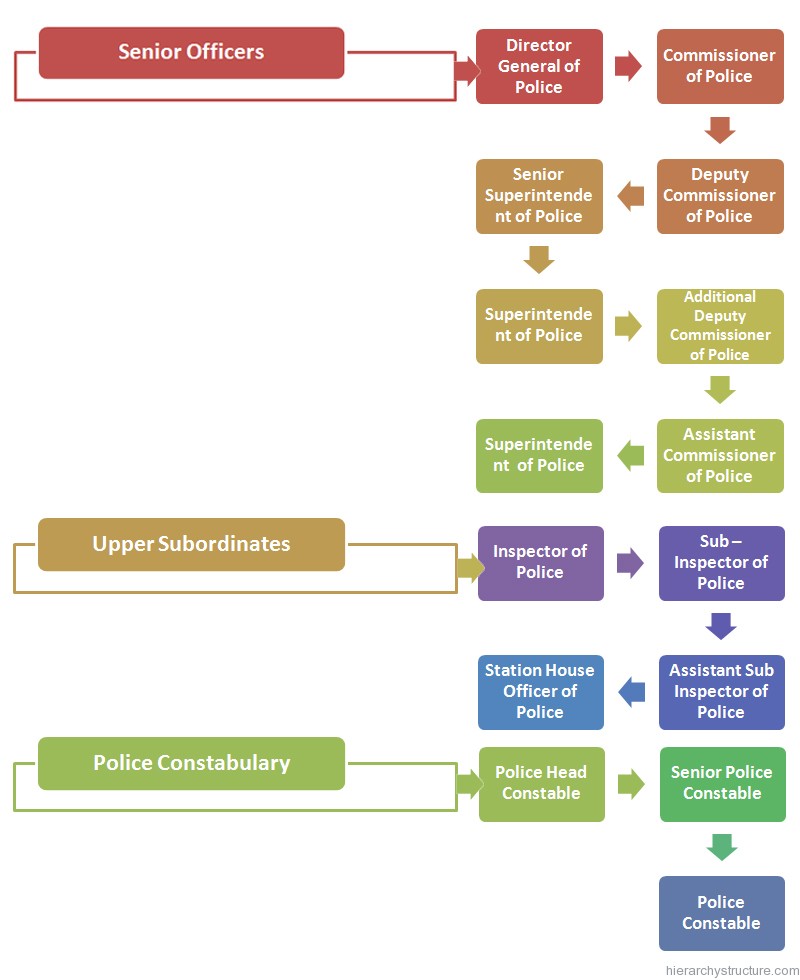 Senior Officers
The first level of Indian police service is of senior officers who are by and large drawn from the IPS (Indian Police Service) tests and possibly from State level police. These officials are appointed to perform the supervisory operations at the senior police level. They are mostly selected based on the Civil Service exam which takes place every year and is taken by UPSC. The topmost rank in this level is acquired by DGP (Director General of Police) who takes the responsibility of administration of entire police force in his / her state.
The police officers in this level are as follows:
Director General of Police (DGP)
Commissioner of Police
Deputy Commissioner of Police (DCP)
Senior Superintendent of Police (SSP)
Superintendent of Police (SP)
Assistant Commissioner of Police (ACP)
Deputy Superintendent of Police (DSP)
Upper Subordinates
After the senior officers, come the upper subordinates in the Indian police service hierarchy. These are officers who work in the police stations and are responsible for managing the day to day operations of police and assisting senior officers in various operations. These selection are mostly done at the state level and State Public service commission is involved in there selection.
Inspector of Police
Sub – Inspector of Police
Assistant Sub Inspector of Police
Station House Officer of Police
Police Constabulary
The third level in the Indian police service hierarchy is reserved for police constabulary staff. These personnel work to maintain law and order in their designated areas and are also responsible for other police activities like guard duties, surveillance and patrolling. The personnel at this level account for more than 85 per cent of total police force of India and the selection from them also done by State PSC.
Police Head Constable
Senior Police Constable
Police Constable
You can find detailed information for the selection of IPS officer, DSP Officer, Sub Inspector and Constable.
I have prepared for UPSC exam and have researched the best available information both offline/online on how to prepare for the Police Exam in India.